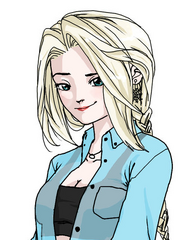 Elsa Fryst 
is a Senior at Disney High. She studies Art, Music, Architecture, Biology and Textiles.
Infomation
Edit
Elsa Fryst is the older sister of Anna Fryst. In Disney High, Elsa is a straight-A student and an honor roll. However, she is a cold and reserved individual, and a bit antisocial when it comes to interactions with other including Anna. In reality, Elsa is fearful and stressed because she is pushed to be the "perfect girl" to live up to her parent's expectations, thus she believes she has to bundle up her emotions to accomplish.
Unfortunately, because of this she has no grip over controlling her impulses despite her calm demeanor nor prior experience in handling them around others. As much as Elsa does want to make friends, she's too scared to try believing that doing so will cause disappointment in her family along with doubt that she could potentially lash out on them. 
Although quite intelligent in many subjects, Elsa's true passion is art and architecture; she has loved the geometrical structure of buildings and snowflakes ever since she was a child. Unfortunately, she has been convinced that this distracts her from being successful in life that she has given this up.