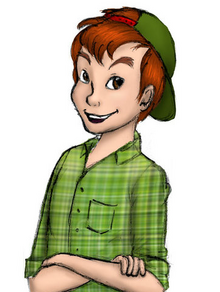 Peter Pan-Barrie is a Freshman at Disney High. He studies Geography, Physical Education, Business Studies, Biology, Anatomy and Music.
Information
Edit
Peter's life has been rather difficult for him even when he was a baby. His parents divorced (hence the double-barrreled surname) and given up for adoption believing the young Peter would be too much responsibility. Due to being a troubled and unruly child, he's been constantly moving around foster homes until he finally stuck to Neverlund Home for Abandoned Youth. There, Peter managed to find a group of young boys that he quickly grew close to, and so the orphans decided to stick together in the home and vowed to never "grow up" and leave.
When Peter finally reached his teens, he began attending Disney High. But even as a teenager, Peter retained his youthfulness and mischievous demeanor, so he's prone to get into trouble at school and at home. But don't be fooled by his impishness: Peter means no ill-will towards the other students and looks out for his foster brothers with care.